Fiction – Kindle edition; Atlantic Books; 140 pages; 2012.
All around us, South West Africa was turning into Namibia. The air was shimmering and bright, as if a gigantic energy had been unleashed somewhere.
Finding independence, both personal and political, is the central theme of Damon Galgut's novella, The Beautiful Screaming of Pigs, which was first published in 1991.
Set on the eve of the election that would grant independence to South West Africa, a territory under South African jurisdiction, it's an insightful look at loyalty, territorial rights, black and white relations, and the long legacy of colonial rule.
But it's also a story about the impact of violence on one man, the narrator of the story, Patrick Winter, who has been honourably discharged from South African military service after an incident left him severely traumatised. Or, as he puts it, "'I had a little crackup there."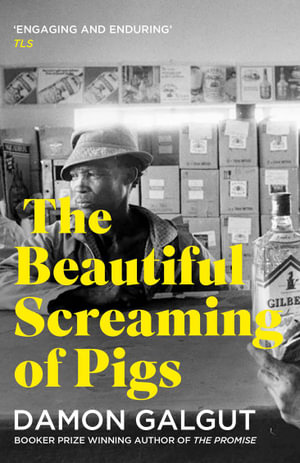 On the road
The story charts a quick road trip Patrick makes with his mother to Windhoek, the capital city of South West Africa, from Cape Town in South Africa so that she can visit her lover.
She had met him there eighteen months before while she was lecturing at the academy. All I knew about him was that his name was Godfrey and that he was twenty-six years old. Also, of course, that he was black.
Godfrey, it turns out, is deeply involved in SWAPO, a political party and independence movement, which Patrick had been fighting during his compulsory military service.
But Patrick, numb from what happened to him, has no "desire to talk politics, much less the politics of the South African war on the border". He ends up helping Godfrey distribute pamphlets, and later attends a funeral of a SWAPO leader who has been shot dead.
All the while he grapples with an increasing sense of dislocation, of not being able to connect with others, of knowing there "was a brotherhood of men […] to which I would never belong":
I was convoluted, involuted, bent on myself. Like the whorls of a shell, my patterns ran inward, spiralling endlessly towards a centre that didn't exist. My individuality was isolation, my personality an absence. I didn't connect with the world. I stood outside movements and masses and words. There was too much desert in me.
Reworked edition
Galgut, who won the Booker Prize last year for The Promise, says the book has troubled him since it was first published. He wasn't happy with the "rhythms of the language" and took the opportunity to rework it when it was reissued in 2005. "It's not a new book, but it's not quite the old one either," he writes in the Author's Note at the front of this edition.
I can't compare the two versions, but this one features the simple, languid prose style I have come to associate with Galgut's work (I have now read six of his novels) and yet it brims with tension and unpredictability: you are never quite sure what direction the narrative might take.
And Galgut expertly keeps things close to his chest, doling out important bits of information in a slow-reveal style, which makes for an intriguing read.
His central characters are normally outsiders, people who are at odds with white South African society, and Patrick, in this instance, is no exception. He's been burdened with the death of his older brother, killed in a traffic accident, which leaves him with the feeling "that it would have been better if it had been me that died".
There was the knowledge, too, that I was carrying a heavier cargo now, of guilt or transplanted hopes. And the dread of failure.
And then there's the whole toxic masculinity thing. Patrick does not want to be like the men around him, especially his father, who is a hunter, his brother, the boys he grew up with, the soldiers he fights alongside:
I would never hunt animals in the bush, or stand around a fire with them, beer in hand, tugging at my moustache. I was pale, I was weak, my jokes made them blanch. I would never be part of their club.
The Beautiful Screaming of Pigs  — the title refers to the sound the animals make when Patrick witnesses them being slaughtered — is a thin volume but is packed with big ideas. It's the kind of story that would benefit from a close reread as there's so much going on.
I loved its insights into a political movement that gave rise to an independent Namibia and found myself looking things up on Wikipedia as I went along. But don't let that put you off. This is a compelling read by an accomplished writer.
This one is going on my top 10 reads of the year.